[Prep 準備: 20 minutes | Cook 烹調: 20 minutes| Serve 份量: 4 | Calories 熱量: 320 per serving ]
列印 Print (Password: tony)
http://tonykarenkitchen.com/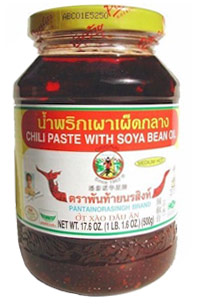 Thai Chili paste (aka "Nam Prik Pao") is one of the most — if not the most — versatile composite ingredients in Thai cooking that I can think of. It is intense and complex, but not in an in-your-face kind of way; it also features pretty much all of the tastes associated with traditional Thai food sans the usual herbs. Each spoonful packs so much flavor, and a little goes a long way
Source:
http://shesimmers.com/2011/01/nam-prik-pao-thai-chilli-jam-secret.html
.: 材料 Ingredients :.
1- Bacon, diced, 200g
2- 1/2 Medium onion, peeled, sliced
3- 1 bell pepper, cored, sliced
4- Fresh mussels, 500g
5- Thai basil, 8-10 leaves
6- minced garlic, 1 tbsp
7- 1 Shallot, peeled, diced
.: 汁料 Sauce mixtures :.
1- 1 tsp sugar
2- 1/2 cup of hot water
3- 1 tbsp of fish sauce
4- Chili Paste With Soya Bean Oil, 2 tbsp
.: 做法 Directions :.
Step 1:
Heat the pan with 1/2 tsp of oil over medium high heat. Add in the bacon and pan-fry it until the bacon is crispy. Add in the garlic, shallot, and onion with 1/3 tsp of salt. Stir-fry the ingredient for 2 minutes.
Step 2:
Add in the bell pepper and mix it well. Stir-fry the ingredients for 2 minute. Add in the mussel and the sauce mixture and bring it to boil. Cover and simmer for 5 minutes or until the mussels are cooked. Add in the basil and mix it well. Dish it up and serve it hot.
.:
小貼士
Cook's notes :.

1- Check the following site to learn how to clean the mussel properly:
http://www.thekitchn.com/thekitchn/tips-techniques/how-to-clean-and-debeard-mussels-050028
.
2- Discard the mussel if the shell remains closed after simmering.
3- Adjust the fish sauce portion accordingly as different brand of fish sauce has different taste.
4- It is fine to use the frozen cooked mussels instead of fresh mussel. It is better to use chicken broth instead of water in this case.

Copyright © 通之廚房. All rights reserved.