[Prep: 10 minutes | Cook: 15 minutes| Serve: 4 | Calories: 340 per serving]
Download recipe in PDF (Password: tony)




.: 材料 Ingredients :.


1- Salmon fillet, 650g



.: 汁料 Sauce mixture :.


1- Fermented black beans, mashed, 2 tbsp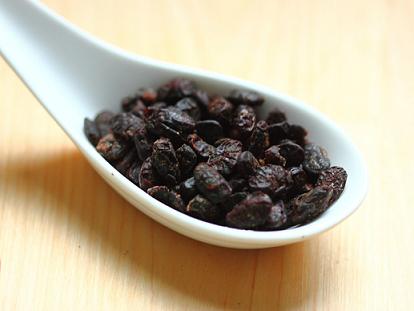 2- Minced garlic, 1 tbsp
3- Soy sauce, 1 tbsp
4- White sugar, 2 tsp
5- Sesame oil, 1 tsp
* or use 3 tbsp of black bean garlic sauce from supermarket





.: 做法 Directions :.


Step 1:


Clean and dry the salmon well. Put it into a oven safe dish. Top with the mixed sauce mixture evenly. In a wor or swallow pan, place a steaming rack in the center. Add water until it cover 2/3 of the steaming rack. Bring the water to boil. Put the salmon on the steaming rack. Cover and steam for 6 minutes over high heat. Turn the heat off and let it rest for another 3 minutes. Take it out and serve it hot.
(

.: Tips :.

If the fish is thick, steam it for 6 minutes and rest for 5 minutes. Insert a chopstick or stick into the fish. If it can penetrate easily, the fish is well cooked)

Copyright © 通之廚房. All rights reserved.